Introducing the OpenArts Membership Program
OpenArts, Boulder's premier visual arts organization is launching a new membership program designed to give you even greater access to Boulder's finest artists, arts education and creative exploration for a lifetime of art and fun.
By becoming a member of OpenArts you will be ensuring the continuation of the vital visual arts programs that support our growing creative community. Programs like the "Must Do" annual Open Studios Tour, the Open Studios' gallery exhibition at the Boulder Public Library, the Open Arts Fest art fair in downtown Boulder, year round exhibitions at the OpenArts Gallery @ Rembrandt Yard, the exceptional art classes offered to children, teens and adults at Clementine Studio and the EdLinks education program which invites professional artists into BVSD schools to supplement the art education of Boulder County Students.
Together these programs constitute a network of support for local artists whose work then continues to inspire and influence the broader community in visual arts.
As a member of OpenArts, you will be helping us grow this dynamic and creative community.  As a thank you, we offer these membership benefits.
Membership Levels & Benefits: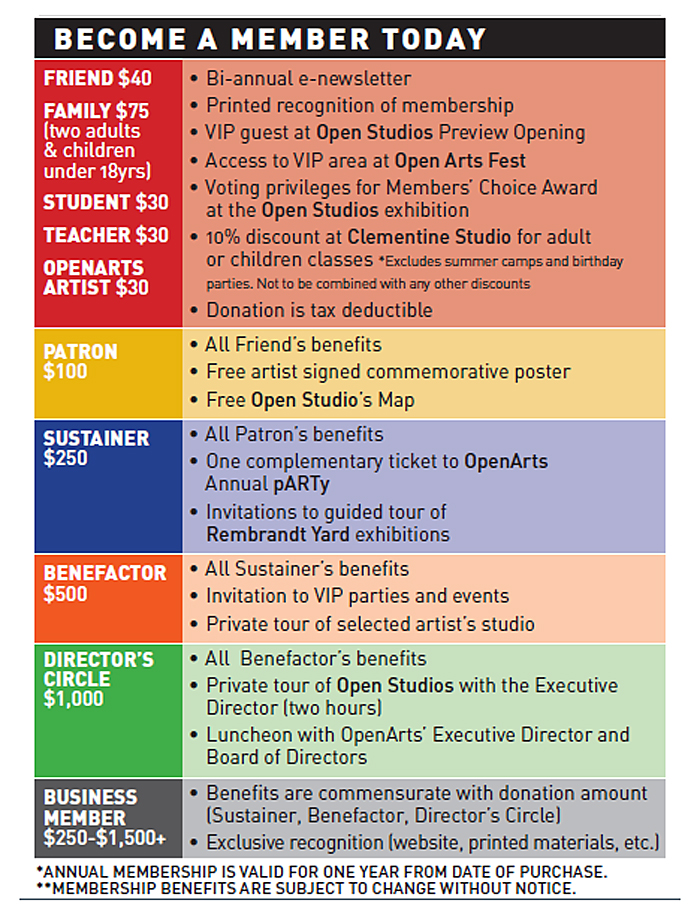 Become a Member Now